PC Magazine Rates List & Label as "VERY GOOD"
In its current issue 01/2020, PC Magazin awards List & Label an outstanding 99 out of 100 points. The reporting tool convinces the editors as "the most powerful reporting component for Windows and Windows server systems and all important development environments".
The support for .Net Core 3.0, the electronic invoice exchange with ZUGFeRD 2.0 or the new GraphQL data provider are particularly highlighted. The magazine concludes: "combit lives up to its reputation of always keeping the reporting component up to date".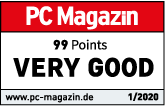 Get news on new features, service packs and how-tos.