You'll get it. We will keep you up to date with our List & Label News. Never miss any tips again that will help you in your daily work with your favorite reporting tool.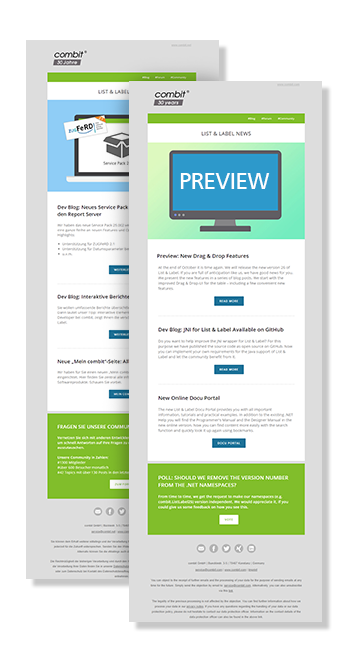 Next Step
After submitting the form, you will receive a confirmation email for data protection reasons to check your data and to confirm your newsletter order. Please click on the confirmation link in the email if you would like to receive the newsletter. If you cannot find the email, please check your spam folder or contact us.
Enjoy reading!
Data Protection Information
In order to be able to provide you with comprehensive information, we process your data on the basis of Article 6 (1) (f) of the European General Data Protection Regulation. If you do not want this, you can object to us using your data at any time. Simply send the objection by email to: 
dataprotection@combit.com
Further information can be found in our Privacy Notes. You can also contact our data protection officer through our contact form.
Get news on new features, service packs and how-tos.