From small-scale to full power – there is a List & Label edition for everyone.
From small-scale to full power – there is a List & Label edition for everyone.
Our reporting tool is available as a straightforward Standard Edition, or as one of two subscription editions – Professional and Enterprise. The subscription editions include support services, free upgrades to new versions, and much more besides. Enterprise customers also benefit from our bug fixing policy: In case of program errors, we guarantee a bugfix within 14 days from reproducibility.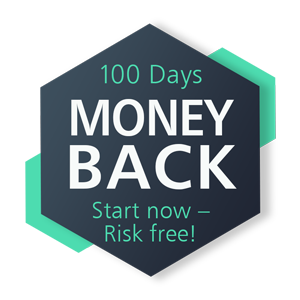 STANDARD

PROFESSIONAL SUBSCRIPTION

ENTERPRISE SUBSCRIPTION

Designer for developers and end users for most desktop applications (see license agreement)

Wide range of programming languages supported;
code examples available

Print, preview and export in all supported formats

Service packs for one year, access to knowledgebase, manuals,
forums and RSS feeds

Report parameters, e.g. Filter conditions within the preview

(1)

One-year subscription: support and maintenance including service packs and new main versions

2D barcodes: PDF417, Maxicode, DataMatrix/EC200, Aztec,
Deutsche Post Premiumadress and QR code

DOM: customize/create projects without Designer

Individually adaptable SAP Crystal Reports and RDL
(e.g. SQL Server Reporting Services) converter

Shapefiles for geovisualization and more

Support via www.combit.com/support or by phone

€

Designer and Manuals in English and German
(Free choice of one language in Standard Edition,
second language fee-based)

€

Switch the Designer into multiple languages:
Add-on language kits available in Chinese, French, Italian, Japanese, Spanish (more on request)

€

€

Suitable for most server/web server applications
(see license agreement)

€

€

Using within a service as well as under Windows Azure, Amazon Web Services, Cloud Computing

Rscript visualization

combit Report Server as browser-based out-of-the-box reporting solution

Formula wizard can be integrated into applications,
independently of List & Label

Long term support for even version numbers until release of next LTS version, typically 2 years

.NET source code as a reference

Participation in beta testing for major new versions

Bug Fixing: we guarantee a bugfix within 14 days from reproducibility
General Reporting Tool License Information
List & Label licenses are non-transferable, for use by one developer, and for installation on one computer or alternately for use on one notebook. If you want to encapsulate List & Label functions, such as those consisting of your own DLLs/components, you will need several licenses. Encapsulation is not possible under our standard License Agreement. However, we can easily amend the License Agreement to accommodate your project.
Each person in a project group, working on either the project or the product, requires his/her own license. We offer attractive discounts for development teams. The Enterprise Edition includes a server/web server license for an unlimited amount of servers and end users.
Subscription
Subscription editions include all service packs, flat-rate support, and feature updates and upgrades to new versions free of charge. A subscription is valid for one year, and is automatically extended by another year unless it is cancelled at least three months before the end of the contractual year.
Support
For Professional and Enterprise customers, our support service is included for the duration of the subscription. Customers with a Standard edition benefit from the knowledge base and forums, and can leverage the services of our support team, charged on a pay-per-use basis.
Get Started with Our Blog Posts and White Papers
Get Started with Our Blog Posts and White Papers
Test Fully Functional 30-Day Trial Version for Free
Get news on new features, service packs and how-tos.